Professional Vauum RF Ultrasound Cavitation Body Slimming Machine Skin Tightening Machine, RF Body Slimming Machine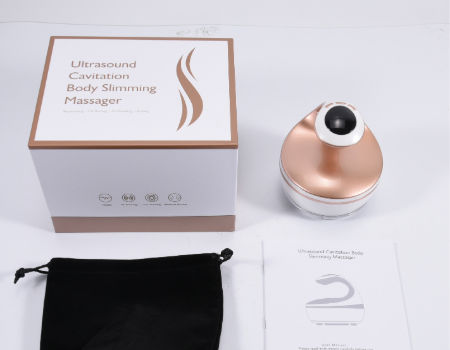 | | |
| --- | --- |
| Model number | DKCA435-2 |
| Mark | Katrina |
| Origin | China |
| small orders | Accepted |
Key Specs/ Special Features:
KCA435 Beauty Salon Use Professional Effective Shape Curve Instrument Lose Weight Massage Machine
Ultrasonic frequency: 100,000 times/s
Unit size: 103*103*111mm
Working voltage: 8.4V
Operating current: 0.6-1A
Power: 8.4W
levels:3 levels
Charging time: 2 hours
Material: ABS + zinc alloy
NO: 326g
Technology: RF cavitation, EMS, vibration, red/blue LEDs,
Function: Accelerate metabolism, improve tissue regeneration process, dilute dullness, anti-aging, lose weight, slim body.
Rejuvenating mode: RF + infrared + red light
Fat browning mode: ultrasonic + vibration + infrared + red light.
Fat breaking mode: RF + ultrasonic + vibration + infrared + red light.
Shaping mode: RF + EMS + ultrasonic + infrared + blue light
High frequency ultrasonic vibration, instantly awaken the skin cells inside, improve cell metabolism, promote fat block decomposition, dredge lymph nodes.
Powerful RF shaping function, heat effect on dermal layer of skin and improve fat burning.
625nm wavelength energy red light with high purity, powerful photosynthetic energy and uniform energy density characteristics, activate skin cells, promote cell metabolism.
| | |
| --- | --- |
| Ultrasonic frequency: | 100K times/s |
| Unit size | 103*103*111mm |
| Operating voltage | 8.4V |
| Operating current | 0.6-1A |
| Power | 8.4W |
| levels | 3 levels |
| Equipment | ABS + zinc alloy |
| Technology | RF cavitation, EMS, Vibartion, red/blue leds, |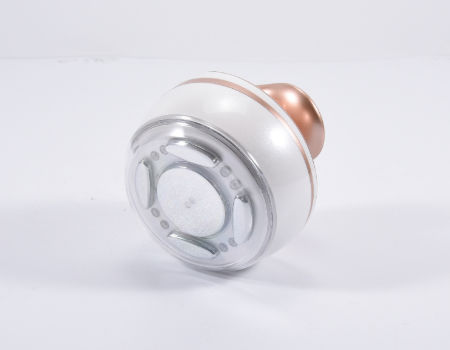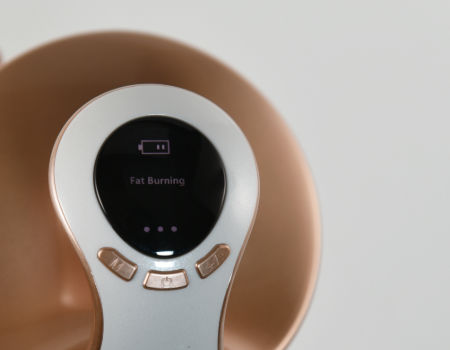 Ultrasound: The fat burning machine can remove fat bags deep in the skin, reduce stubborn fat, achieve the effect of weight loss and body shaping, and shape the abdomen, arms, waist , legs and buttocks. It is the most correct decision for you to choose a body sculpting massager.
RED LED light therapy stimulates cellular activity to help minimize fine lines and wrinkles.
EMS therapy sends gentle waves through skin, tissue and muscle to stimulate collagen and elastin to help firm and tighten Bipolar RF stimulates collagen and penetrates deep into skin tissue to help the body eliminate fat cells.
Vibration: The vibration of the fat burning machine shrinks collagen fibers, accelerates the rate of fat decomposition, and effectively reduces stubborn fat.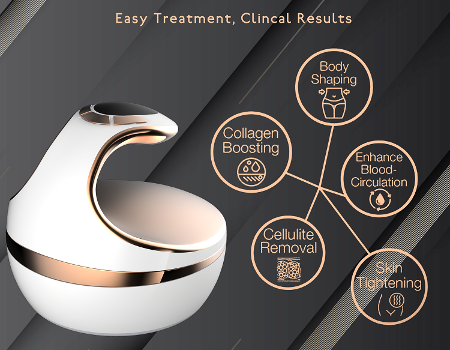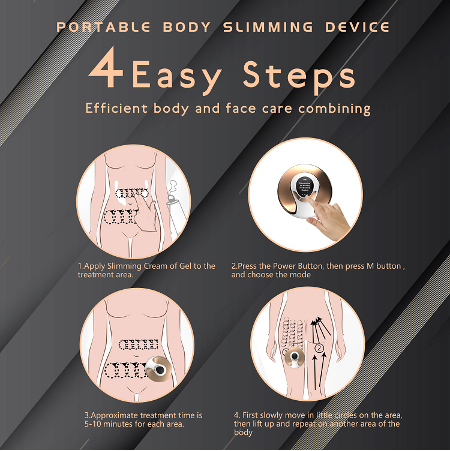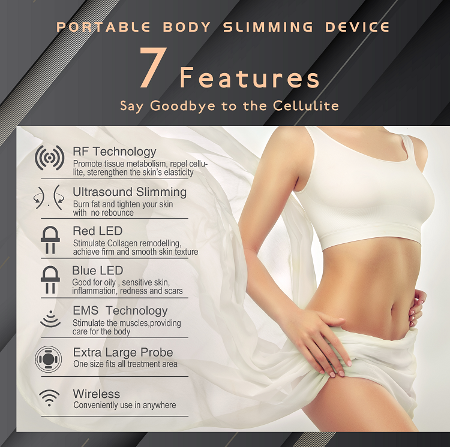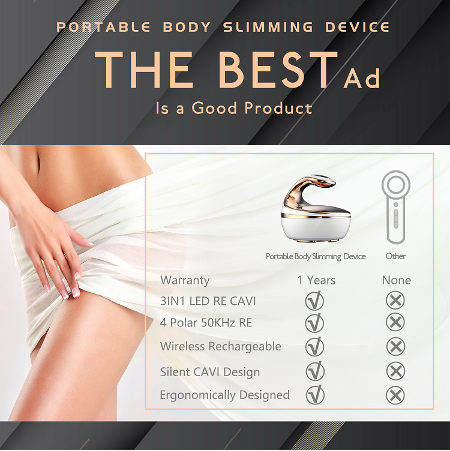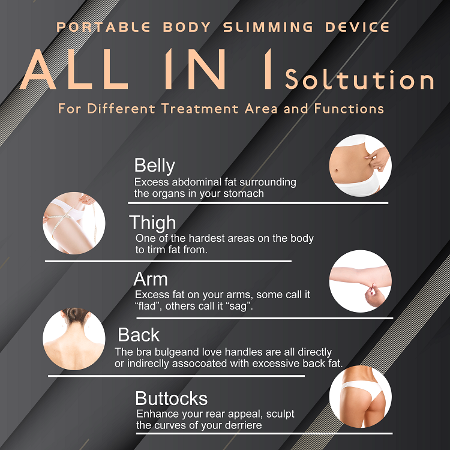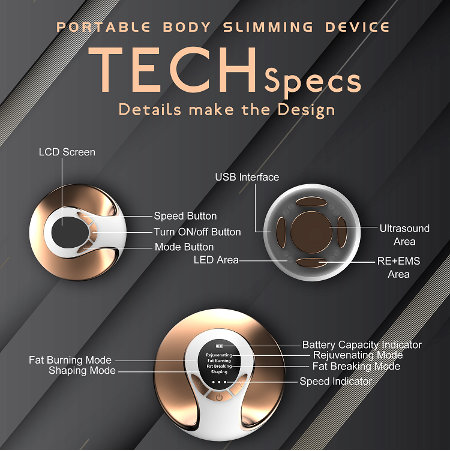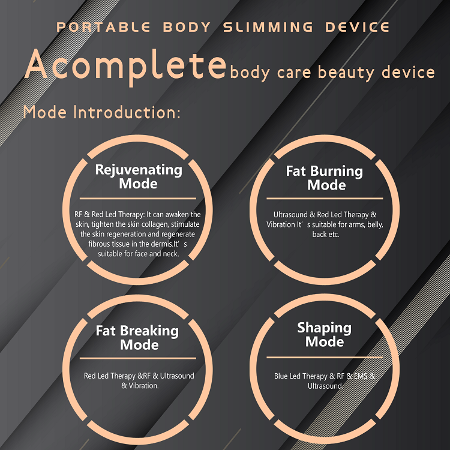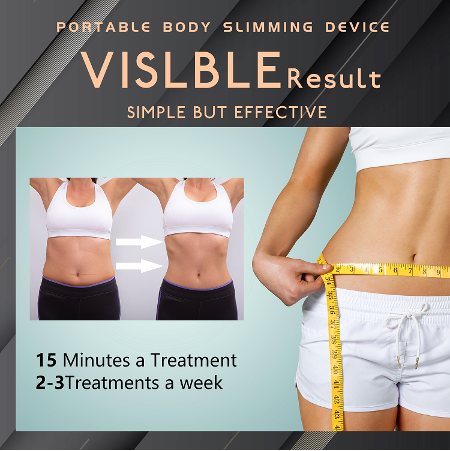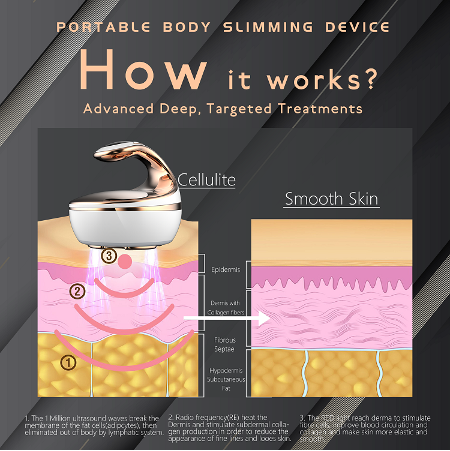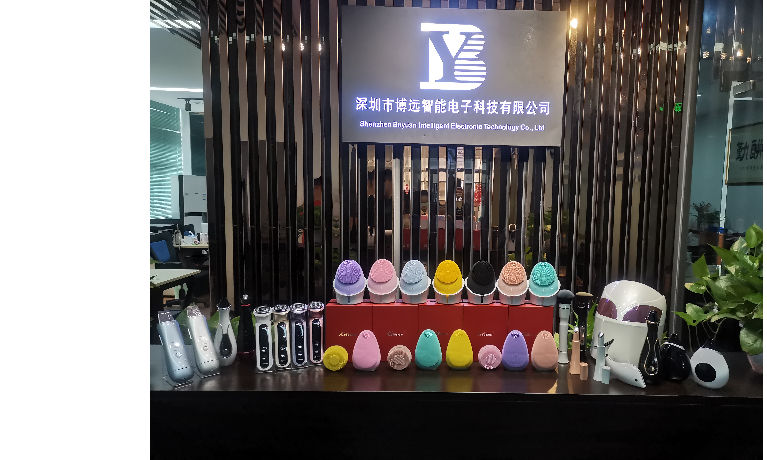 As a professional personal care appliance supplier, we have excellent teams focusing on product development and design, quality control and inspection, and business management. In order to provide the best products and services, we have built a modern quality management system which is in strict accordance with ISO9001 and ISO13485 standards. We are able to launch new products every 2 months to help you sell.
OEM/ODM
Product certificates
| | |
| --- | --- |
| Certificate standard | EMC |
| Certificate Image | Click on the image to see a larger one |
| Certificate number | HX211102026644 |
| Date of issue | 2021/11/09 |
| Issued by | Shenzhen HX Detect Certification Co., Ltd. |
| Expiration date | 2025/11/08 |
To note:
product.certifyingTips
Delivery Information
| | |
| --- | --- |
| FOB port | Shenzhen |
| Lead time | 1 to 30 days |
| Weight per unit | 620.0 grams |
| Dimensions per unit | 14.6 x 12.9 x 17.8 centimeters |
| | |
| --- | --- |
| US HTS code | 8543.70.99 00 |
| Units per export carton | 18.0 |
| Export Carton Dimensions | 56 x 45 x 26 centimeters |
| export carton weight | 25 kilograms |
Main export markets
– North America
– Western Europe
– Asia
– Australasia
– Central/South America
– Eastern Europe
– Middle East/Africa
Download more information about this product